Register Special Events







Best Deal in Town
BONUS $50 Store Credit


Rivals of Ixalan Pre-order PLUS SPECIAL
FREE $40 with Ixalan Booster Box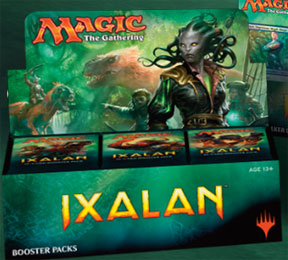 Limited Time Offer !
---

Buy Gift Cards
---
If you have Gift Cards or Pre-order Plus products in your shopping cart, please use button below to check out.

Recent GOB Gamer Finder Posts
Thousands of Local Players
---
-
-
-
-
-

Buy List

Video Games. Atari thru PS3
Role-Playing Books & Box Sets
Comics & Graphic Novels
Magic Singles & Bulk Collections
Minis (D&D, Clix, Warmachine, etc

Visit our stores to sell or trade your used games & entertainment items.

Shipping Rates & Policy
Exchange Policy
Game Room Rules


GOB Retail is located in Clawson, along the border between Oakland and Maccomb counties in the state of Michigan. A near northern suburb of Detroit. The store is in near proximity to the cities of Royal Oak, Warren, Hazel Park, Madison Heights, Troy, Sterling Heights, Ferndale, Detroit and Berkley and reasonable drive from numerouns other communities, including Southfield, Rochester Hills, Rochester, St. Clair Shores, Roseville, Auburn Hills, Bloomfield Township, Clinton Township, Shelby Township, Utica, East Pointe, Beverly Hills, Birmingham,Pontiac, Oak Park and Waterford. The store is just 1 mile east off of I-75, which makes it easily accessible from further out via connections with I-696, I-96 and M59.
---
GOB Retail carries all the major brands and likely a bunch you have never heard of as well. Here are just a few:

































GOB Retail News
Past 30 days News
Rivals of Ixalan Prerelease - Preregister just $26
Tue Jan 02, 2018 11:29 AM
Pre-Register for Rivals of Ixalan Pre-Releases.

Sign up now for the upcoming Rivals of Ixalan Pre-Releases. Pre-Register and get your Pre-Release seats at just $26 each. GOB will be running 4 total pre-releases as follows:

Saturday, Jan 13th (Friday, midnight) Midnight
Saturday, Jan 13th 2pm
Saturday, Jan 13th 8pm
Sunday, Jan 14th Noon
You can pre-register in the store or online at the link below. Sign up to all 4 and get a bonus of $10 in Magic Player Points:

http://www.gobretail.com/Register-Events-GOB-Retail.php
We BUY Retro Video Games and Systems
Tue Jan 02, 2018 09:18 AM
We BUY Retro Video Games and Systems

GOB Retail, Michigan's Largest Game and Comic Store is paying CASH (or Store Credit) for most Video Games and Video Game systems. We take everything Retro through the last generation of systems (PS3, XBox 360).

Great cash rates. Up to 50% more for store credit. No collection is too large! Michigan's largest inventory, with more than 100,000 games and comics you could use your store credit on.

Bring your collections to:
GOB Retail, 775 E. 14 Mile Rd, Clawson, MI 48017
www.gobretail.com

Atari, Intellivision, NES, SNES, N64, Gameboy, Sega Master System, Genesis, Saturn, Dreamcast, Jaguar, Lynx, Turbo Grafx, Game Cube, Gameboy Advance, DS, Wii, PS1, PS2, PS3, Xbox, Xbox 360 and the truly obscure. Bring it all.
Games and Comics Santa Missed! @ GOB
Tue Dec 26, 2017 05:34 AM
Games and Comics Santa Missed! @ GOB :

Hope everyone had a great Christmas. A lot of games and comics were on peoples' lists this year. For those that Santa forgot to bring, GOB Retail in Clawson has you covered. As Michigan's largest game and comic store, we have an insane 117,000+ games, comics and collectibles available.

We have decided to extend our holiday promotions to make it easier for everyone to complete their holiday wish lists this year. To that end, GOB is extending our holiday promotions and specials as follows:

Two Day Remaining for Double Rewards Points!!!

Tuesday and Wednesday Only (Dec 26 & 27)

And...

Now thru New Years Eve

- Get a Free Opaque Dice Set on purchases of $60 or more. Upgrade to a Pearl set at $100.

- 10% Off all Comic Key Issues (any comic $12 or above)

- 10% Off all Statues

- Complete Comic Bundles are Buy 1, Get another at 50% off

And a reminder that we are still running our $500 Gift Card give way. Any purchases of $20 or more are automatically entered into the drawer, with the winner to be announced on New Years day.

Lastly, GOB will be open standard hours on New Years Eve (Sunday) and New Years Day (Monday). Stay tuned for an announcement regarding several New Years Day special events.

GOB Retail - Michigan's Largest Game and Comic Store
http://www.gobretail.com
https://www.facebook.com/gobretail/
Last Day to Christmas
Sun Dec 24, 2017 06:56 AM
Last day to Christmas !
Store Hours : 10 am - 4 PM.

Today Sunday 12/24/ Christmas Eve - GOB will be open Early 10 am to 4 PM.

Merry Christmas everyone.
---