About GOB Retail Group
Welcome to the Guild of Blades Retail Group (GOB Retail). GOB Retail is a unique venture in hobby games retailing, striving to bring a new level of technological application to the business of games retailing. Leveraging the power of a sophisticated e-store with an expanding inventory of over 30,000 new and used games and items all stocked at local retail together with ground-breaking print on demand (POD) printing capabilities to enable independant designers to bring a vast array of unique games to market, GOB Retail is seeking to evolve and expand the adventure games hobby and industry.
GOB Retail Stores:
GOB Retail launched its first brick and mortar retail store in late 2008. Located in Madison Heights, MI (near Detroit), the GOB Retail store in Madison Heights is a full line hobby game store that stocks board games, card games, role playing games, table top miniature games, war games, dice, used video games, used graphic novels, used DVDs and TV series. More than 30000 games and items currently available and expanding. The Madison Heights store also hosts an open gaming area where players can meet up to play games and where game days for Magic the Gathering, Warmachine and others are held. The Madison Heights store is GOB Retail's first store and is the evolving store template from which additional retail locations are planned.

Check out Full Line Gaming Services we provide from here
GOB Retail POD:
From its inception, GOB Retail was created to launch and expand Print on Demand services for games; to bring new production and distribution vehicles to market for independant game designers and publishers to utilize. GOB Retail POD operations began in March of 2008 with the first die cut POD Playing Cards printing service in the USA. GOB Retail quickly expanded the POD card market until it hit max production capacity based on existant finishing equipment and has since been in development of new die cutting machinery to take POD card and board game production to the next level.
GOB Retail E-Store:
The vast majority of hobby games, new and used, stocked at GOB Retail is also available online to order. We maintain real time inventory so you may shop with the confidence that GOB Retail indeed has the item you are looking for, in stock and ready to ship. Click on "Shop Games" to browse or search our online catalog.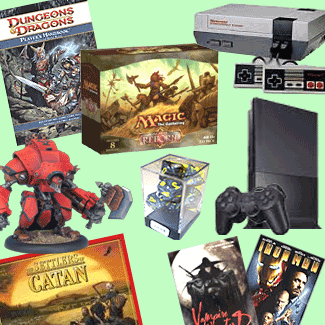 GOB Retail News Update
Games Gift Registry for Christmas
Sat Dec 07, 2013 10:40 AM
Have you have chance to browse games and created Games Gift Registry list for Christmas yet? If not, recommend start today. It's simple with GOB. .... Read More
---
Happy Shopping & Gaming Today @ GOB
Sat Dec 07, 2013 08:36 AM
<center>We're open 11.30 - 8 pm Today. Stop by the store and shop with us.</center>
---
New Fate Dice @ GOB
Fri Dec 06, 2013 17:30 PM
Part of new releases Role Playing games this week, All New shiny Four Fate Dice are one of them ! Check them out <a href='http://gobretail. .... Read More
---
New Ships Star Trek Attack Wing @ GOB Today
Fri Dec 06, 2013 17:14 PM
Star Trek Attack Wing: Federation U.S.S. Excelsior Expansion Pack Star Trek Attack Wing: Klingon I.K.S. Koraga Expansion Pack Star Trek Attack Wing: .... Read More
---
Ogre is back !
Fri Dec 06, 2013 16:49 PM
Originally published in 1977, it was a hit as the first "Microgame," and is now considered a classic. Over 25 years after its release, Ogre .... Read More
---
Mage Wars Board Game @ GOB
Fri Dec 06, 2013 14:03 PM
Full Line are in stock and Available @ GOB Today <a href='http://gobretail.com/gobretail-ecom/Gamesinfo.php?gobitemcode=GOB019937&usedpro .... Read More
---
Read Past 30 days News