GOB Retail Games and Comics
775 E. 14 Mile Rd, Clawson, Mi 48017
GOB Retail is located in Clawson, along the border between Oakland and Maccomb counties in the state of Michigan. A near northern suburb of Detroit. The store is in near proximity to the cities of Royal Oak, Warren, Hazel Park, Madison Heights, Troy, Sterling Heights, Ferndale, Detroit and Berkley and reasonable drive from numerouns other communities, including Southfield, Rochester Hills, Rochester, St. Clair Shores, Roseville, Auburn Hills, Bloomfield Township, Clinton Township, Shelby Township, Utica, East Pointe, Beverly Hills, Birmingham,Pontiac, Oak Park and Waterford. The store is just 1 mile east off of I-75, which makes it easily accessible from further out via connections with I-696, I-96 and M59.
---
GOB Retail carries all the major brands and likely a bunch you have never heard of as well. Here are just a few:

































GOB Rewards Login
GOB Rewards Program
Buy Games, Comics, Graphic Novels, Dice, Gaming and Comic Supplies, Pop Culture Collectibles...and Get FREE stuff !
What could be better?
Are you a GOB Rewards Member?
Sign up Today. You won't miss ALL the benefits we offer. Free to sign up !
Benefits :
Earn reward Points in all transactions. Redeem for games, comics, graphic novels, gaming and comic supplies and more.
Earn Double Reward Points around your Birthday period.
Get Free items with your Reward Points, 160,000+ items are available Unlimited !
Access Monthly Comics Pre-order Lists with Free Pullbox service.
Set up a Comic Pullbox. Earn Double Comic Points. Won't miss weekly new releases.
Trade-in your games, comics, collectible items and get Up to 50% More for Store Credit !
Earn 10% with your Refer Friend Program !
Rent out GOB Board Games in GOB's Library.
Sell your Board Games in the GOB Board Game Consignment Program.
Set up Notification back-in-stock items.
Your GOB Rewards Account Benefits with full details are here :
Visit GOB Retail Store and set up your GOB Rewards Membership Today.
How to Participate :
1) Join the GOB Retail Rewards Program (ask an associate for a sign up form). It is free to join. E-commerce customer will be automatically set up with an account ( But don't worry you can always opt out of all emails ).
2) When you spend money with GOB Retail, be it Board, Card, Role Playing, Miniatures, Comics, Graphic Novels, Video Games, Jewelry or Figures Collectible (but excluding copy and print services and POD),

you earn 1 Gamer Rewards Point for every full dollar, pre tax, you spend.
you earn 1 Comic Point on each new comic purchased.
you earn 2 Comic Points on your Pullbox comic.
3) Each month GOB Retail will sponsor a list of free merchandise and/or services that Reward Points may be spent on.
Get 10% Unlimited Bonus Games, Comics Reward Points on Refer-A-Friend Program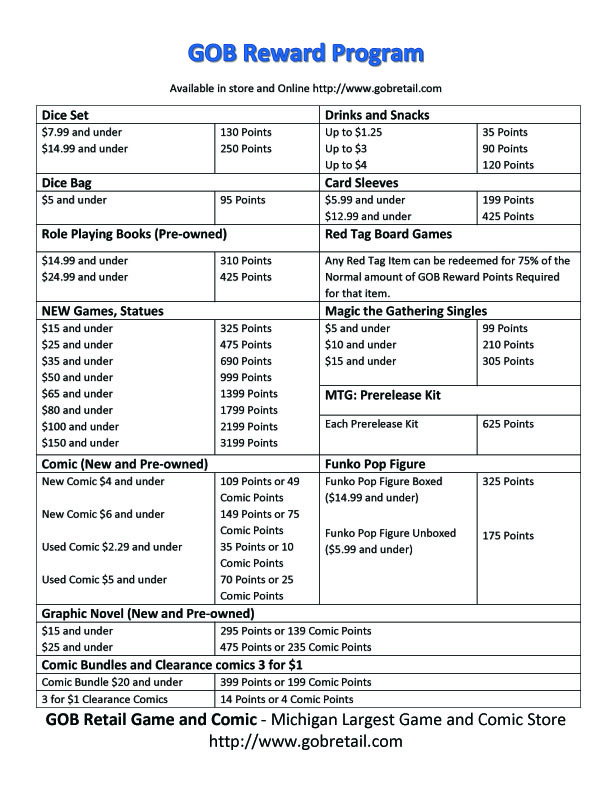 Share GOB Retail to your Friends by clicking the Share button. Your friends get Free Dice Set, Comics with their first purchase ! and you Get Bonus GOB Reward Points on an ongoing basis. Share and Enjoy your hobbies and get Free stuff !