Register Special Events







FREE $40 with Ixalan Booster Box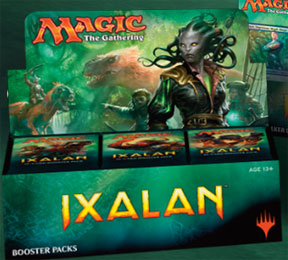 Limited Time Offer !
---

Buy Gift Cards
---
If you have Gift Cards or Pre-order Plus products in your shopping cart, please use button below to check out.

Recent GOB Gamer Finder Posts
Thousands of Local Players
---
-
-
-
-
-

Buy List

Video Games. Atari thru PS3
Role-Playing Books & Box Sets
Comics & Graphic Novels
Magic Singles & Bulk Collections
Minis (D&D, Clix, Warmachine, etc

Visit our stores to sell or trade your used games & entertainment items.

Shipping Rates & Policy
Exchange Policy
Game Room Rules


GOB Retail is located in Clawson, along the border between Oakland and Maccomb counties in the state of Michigan. A near northern suburb of Detroit. The store is in near proximity to the cities of Royal Oak, Warren, Hazel Park, Madison Heights, Troy, Sterling Heights, Ferndale, Detroit and Berkley and reasonable drive from numerouns other communities, including Southfield, Rochester Hills, Rochester, St. Clair Shores, Roseville, Auburn Hills, Bloomfield Township, Clinton Township, Shelby Township, Utica, East Pointe, Beverly Hills, Birmingham,Pontiac, Oak Park and Waterford. The store is just 1 mile east off of I-75, which makes it easily accessible from further out via connections with I-696, I-96 and M59.
---
GOB Retail carries all the major brands and likely a bunch you have never heard of as well. Here are just a few:

































Product Detail
Have used Games to sell? If so, check our

Finding new players or gaming groups,
don't forget to check out posts on
Twilight Imperium Fourth Edition


Out of stock at the moment.





Add This Item to Gift Registry



Game Type:
Board Games

By:
Fantasy Flight

Status:
New

In Stock:
0
Our Price:
$149.95
Buy This Item and Earn 149 GOB Gamer Reward Points. - What's This?

---

Buy this item locally in our retail store, Clawson, MI. And Pay No Shipping.
Click Here.

| | |
| --- | --- |
| Our Price : $149.95 | Out of stock at the moment. |

Tags: 3-6 Players, &nbsp Ages 15+, &nbsp Dice Rolling, &nbsp Hex Based, &nbsp Strategy, &nbsp Set Collection, &nbsp Trading, &nbsp Area Control, &nbsp 4hr-6hr, &nbsp


Description
Mecatol Rex. The center of the known galaxy and seat of the former Lazax Empire. Scarred by the flames of betrayal, Rex is a specter of a fallen empire and of ages long forgotten, yet it remains an object of reverence— and desire—in a galaxy of conflict and uncertainty. Once, the great city that spanned its surface was the pinnacle of civilization. Today, Mecatol City is naught but a blasted shell of its former glory, a grim respite in the toxic Sea of Desolation that covers the majority of the planet. Even so, its parabolic history of decadence and destruction does little to deter those who would seek to harness its power. The Winaaran custodians who dwell within the remnants of the city maintain what is left of the former capital, waiting for one of the Great Races to step forward and take up the mantle of the former Emperors. But who among the races of the galaxy could fill the void left by the Lazax? To lay claim to the throne is a destiny sought by many, yet the shadows of the past serve as a grim warning to those who would follow in their footsteps...


---

Buy "Twilight Imperium Fourth Edition" For Only $149.95

Out of stock at the moment.
---
Related Games in This Family
Twilight Imperium 3rd Ed Board Game (1)