GOB Retail Games and Comics
775 E. 14 Mile Rd, Clawson, Mi 48017
GOB Retail is located in Clawson, along the border between Oakland and Maccomb counties in the state of Michigan. A near northern suburb of Detroit. The store is in near proximity to the cities of Royal Oak, Warren, Hazel Park, Madison Heights, Troy, Sterling Heights, Ferndale, Detroit and Berkley and reasonable drive from numerouns other communities, including Southfield, Rochester Hills, Rochester, St. Clair Shores, Roseville, Auburn Hills, Bloomfield Township, Clinton Township, Shelby Township, Utica, East Pointe, Beverly Hills, Birmingham,Pontiac, Oak Park and Waterford. The store is just 1 mile east off of I-75, which makes it easily accessible from further out via connections with I-696, I-96 and M59.
---
GOB Retail carries all the major brands and likely a bunch you have never heard of as well. Here are just a few:

































GOB Retail is now buying Retro Toys, Action Figures and Statues
GOB Retail is now buying Retro Toys, Action Figures and Statues
Buying Days: at GOB Clawson, Mi
Wednesdays 2pm to 9pm
Saturdays 2pm to 9pm.
You can get Cash or Store Credit for a wide variety of older toys, action figures and statues. Here at the start we are looking for specific toy and action figure lines and not everything, though the list of items we may accept will be expanding over time.
GI-Joe Action Figures 3.75 Inch/Vehicles (1982-1994)
GI-Joe Action Figures 3.75 Inch (2020 Retro Series)
Transformers Generation 1 (1984 - 1993)
Transformers (Transformers Collection Series)(2020) Book Box)
Transformers Masterpiece Series (2003 onward)
Transformers Generations (2008 onward)
Transformers Vintage (2018)
Go-Bots
Masters of the Universe (1981-1987)
He-Man (Waves 1-3) (1989-1991) No wave 4.
EXO Squad / Robotech 7" figures.
Matchbox's 1985-1989 3.75" Robotech Figures. Plus Zentradi, Invid and Robotech figures and mech.
Robotech Transformable Veritech Fighters (w pilot)
CM Mospeada/Robotech Figure Line (2008)
Star Wars (Kenner) Action Figures and vehicles/playsets (1978-1993)
Star Wars Micro Collection (Die cast) Figures and Playsets (1982)
Star Wars (Retro) and (Black) Figure Series (2019-2020)
Star Wars Rogue One (2016) Figure Series
Star Wars Resistance (2017) Figure Series
Star Wars Rebels Saga Legends (2014) Figure Series
Star Wars Legends (2013-2014) Figure Series
Voltron (lions and vehicles) Transformable Figure Sets
Marvel Legends Action Figures
Marvel Select Action Figures
DC Icons Action Figures
DC Essentials Action Figures
Statues/Dioramas
We will entertain buying previously owned statues or dioramas on a case by case basis. In the box is better, but also loose one that is still complete (aka, no lost parts, limbs, chipped paint, etc). Must be for superhero, sci-fi, fantasy or anime/manga franchises. We can not accept pre-owned statues that have collected and retained a layer of dust on them. Or cat hair.

As with all trade ins, the better condition and more complete and item it, the better chance we can take it and/or the more we will be able to pay for it.
Payment:
Please bring in any of the above items to for cash or store credit only on the days and times listed above. No staff will be able to buy/trade for these items on days and times not listed above. You can get same day cash or store credit for your trade ins with the following exception. Same day cash is limited to $200 and cash trade in above $200 will have the balance above $200 given in the form of a company check. There is no limit on store credit trade ins.
We cannot appraise your items. We can only offer what we are willing to pay for them. Bare in mind, we are the wholesale option. Where you can sell it all at once and get paid right away without doing individual listings and shipments for each piece, garage sales or other methods to try and attain market value. We will be attempting to sell them for something akin to market value ourselves. We save you the trouble.
We can only evaluate and make an offer on items while you are in the store. We cannot hold onto the items to price them out while you are gone with an intent to come back later. If you leave prior to selling items to GOB, you must take your items with you. Items left behind can only be considered abandoned.
Once an item or items are sold, the sale is final. GOB is not a pawn shop and we cannot lend money with items as a retainer.
Thanks for considering us for your no-longer used toys and figures. We will do our best to find new homes for them while getting you value for them right away.
Funko Pops:
GOB also buys assortments of Funko Pops, but only those that fit our approximate audiences. Super hero, fantasy, sci-fi and assorted anime and pop culture themed Pops. You can read about selling us Funko Pops here:

http://www.gobretail.com/HobbyGamesBuyPrice.php?system=popfigure
GOB buys your used goods. Cash, store credit options are available on the spot.
Buying these 7 days a week.
- Graphic Novels
- Comic Long Box Collections
- Role Playing
- Magic the Gathering Bulk Collections
- Magic the Gathering Singles
- Board Games Pre-owned Consignment
- Funko Pop Figures

Buying these at the below days and times.
Buying Days at GOB Clawson, Mi
- Wednesdays 2pm to 9pm
- Saturdays 2pm to 9pm.

- Retro Toys, Action Figures and Statues
- Pokemon, Yu-Gi-Oh and Other Old Trading Card Games
- D&Ds minis, Star Wars, Pathfinder Pre-painted and Unpainted figures for Role Playing
- HeroClix, MageKnight, Battletech, Mechwarrior Figs
Please bring your used goods to:
GOB Retail Games, Comics and Pop Culture
775 E 14 Mile Rd, Clawson MI 48017
248-430-4980


Full details for GOB's Buy Lists Online :

http://www.gobretail.com/BuyGamesMenu.php
Large Collections
If you have a large collection of used goodies to sell or trade-in. Recommend to email us first and we can set a time slot for you to bring your goodies in and we can go through all the used items quickly for you.
Email to gobretail@gmail.com
In the email details, please let us know approximately how many, what items and your phone number to contact you back.
---
Quick Links to GOB Retail
---
GOB Game Library - Weekly New Games Added
New Board and Card Games have been added weekly. 240+ games are available for everyone to play in the GOB Game Room (Free) or Rent out. Games may be rented for up to 5 days (not counting the day you rent it) for fairly nominal amounts, which will be $3, $5, $7 or $10 depending on the size and cost of the game. The library will contain a mixture of new games and it will keep some well loved now out of print games as a means to keep them available to you. Up to 2 games may be rented at the same time.
Better yet! When you return your rental, if you found you really liked it, you can buy a new copy and we'll discount that new copy the amount you paid for the rental. So you can use the renting library as a try it before you buy it service.
GOB Renting Library Annual Memberships
Think you might want to rent games more than a few time. You can get an Annual Library Membership for $75 or with 1,200 GOB Gamer Rewards Points. Benefits of A Library Membership :
- Free 24 Renting Games per year (2 games per month)
- No deposit required on the games you rent.
Full details, visit :
http://www.gobretail.com/GOB-Board-Games-Rental.php
---
GOB Gift Cards - In store and Online Available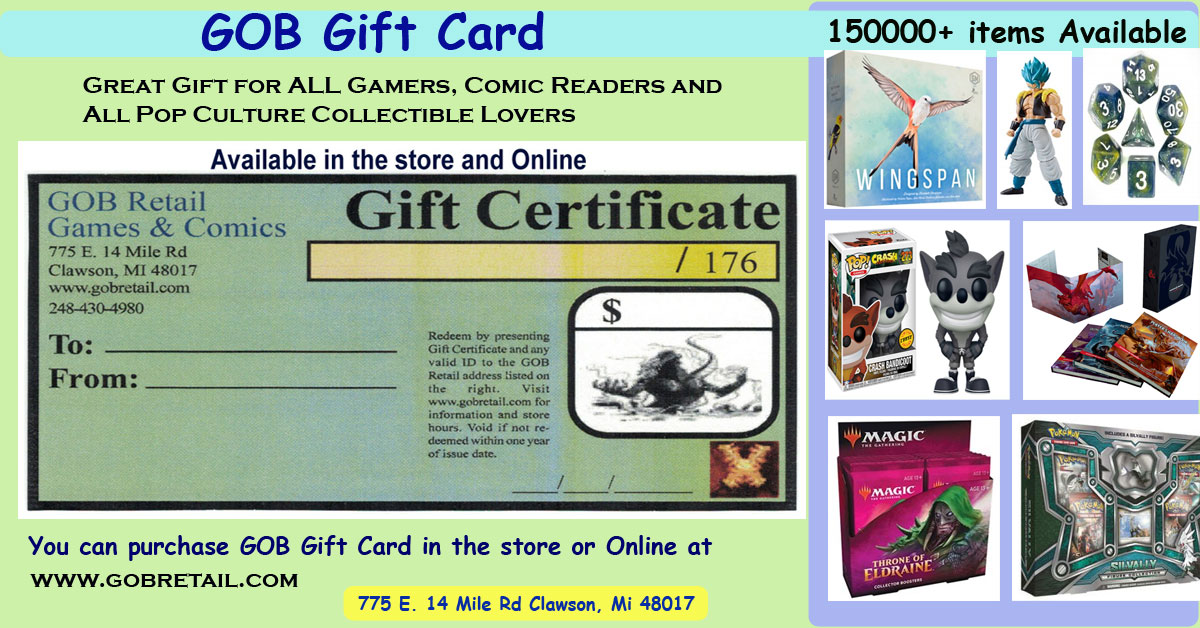 GOB Gift Cards are Available in the store and online. It can be used toward ALL merchandise in the store : Hobby Games, Comics, Graphic Novels, Pop Culture and Collectibles. It's Starting just $10. Great Gift for Christmas, Birthday, Graduation and other important days of your family, friends and loved ones.
Please visit GOB Gift Card Page for details here:
http://www.gobretail.com/GOB-Buy-Gift-Card-Online.php
You can order Online and Pick it up in the store or ship to your home or gift card receiver's address with flat rate $2 shipping.
---
GOB Game Room - Open 7 days a week
The GOB game room is a large space. Tables for Tabletop gaming, board games, role playing games, trading card games. 2 soft sofa sets for comfort. GOB Open Game Library for Free games to play and try out.
Check out GOB Private Game Room - Available Today.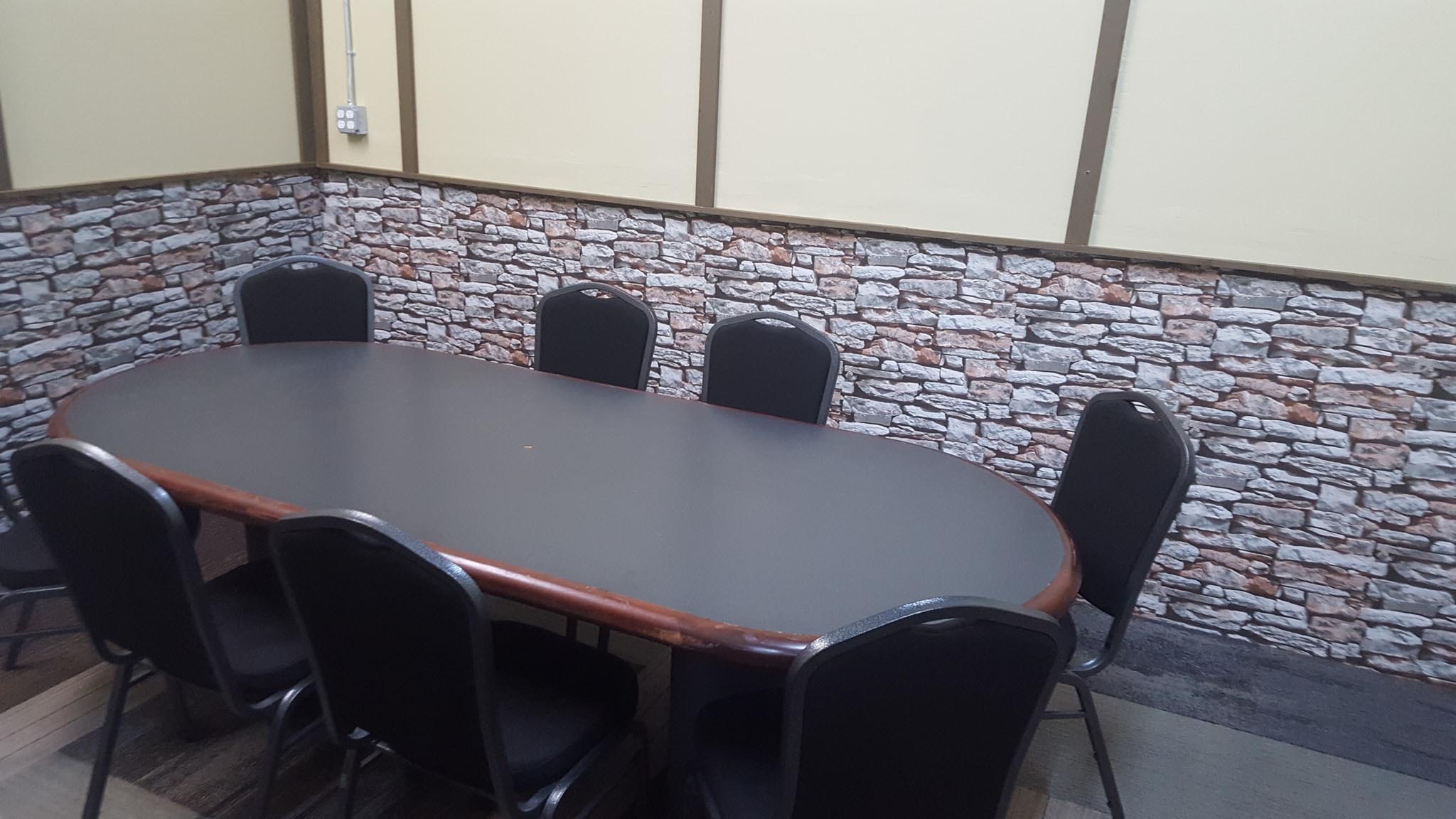 ---
Happy Gaming, Reading, and Collecting everyone !
GOB Retail - Game, Comic and Pop Culture
Michigan's Largest Games and Comics Store
775 E. 14 Mile Rd, Clawson MI 48017
http://www.gobretail.com
248-430-4980
Mondays:
11.30 am - 9 pm
Tuesdays - Saturdays:
11.30 am - 10 pm
Sundays:
11.30 am - 8 pm
---
GOB Retail - Michigan's Largest Game and Comic Store
A large 7,900 Sq ft store with 186,871 Games, Comics and Pop Culture Collectibles. Leading the nation in Board and Card games with over 7000 titles. Huge selection of comics and graphic novels, Games Workshop and Warhammer 40k, Citadel, Funko Pops and much more, PLUS a LARGE Gaming Space Available for you. Open 7 days a week. Come check us out or browse our Real Time Inventory online.
---
Total Views : 59