GOB Retail Games and Comics
775 E. 14 Mile Rd, Clawson, Mi 48017
GOB Retail is located in Clawson, along the border between Oakland and Maccomb counties in the state of Michigan. A near northern suburb of Detroit. The store is in near proximity to the cities of Royal Oak, Warren, Hazel Park, Madison Heights, Troy, Sterling Heights, Ferndale, Detroit and Berkley and reasonable drive from numerouns other communities, including Southfield, Rochester Hills, Rochester, St. Clair Shores, Roseville, Auburn Hills, Bloomfield Township, Clinton Township, Shelby Township, Utica, East Pointe, Beverly Hills, Birmingham,Pontiac, Oak Park and Waterford. The store is just 1 mile east off of I-75, which makes it easily accessible from further out via connections with I-696, I-96 and M59.
---
GOB Retail carries all the major brands and likely a bunch you have never heard of as well. Here are just a few:

































GOB Retail Group
Madison Heights, MI
GOB Retail sells a wide selection of Entertainment Merchandise with over 30,000 items available and expanding, including:-

Check out Full Line Gaming Services we provide as listed below :-

A short walk-thru the store

You can find games from Wizards of the Coast, Fantasy Flight, Paizo, BattleFront Miniatures, Rio Grande, Z-Man Games, Twilight Creations, AEG, Privateerpress, Reaper, WhiteWolf, Margaret Weis, Catalyst Games Lab, Looney Labs, Chaosium, Steve Jackson Games, and also indie / small publishers: Evil Hat Productions, Asmadi Games, Guild of Blades Publishing, RatTrap Productions, etc. Over 650 manufacturers covering over 30,000 different gaming products.


GOB Retail Photo Gallery
GOB Gamer Rewards Membership Program
Buy Games...Get Free Stuff!
What could be better?
How to Participate:
1) Join the GOB Retail Gamers Rewards Program (ask an associate for a sign up form). It is free to join.

2) When you spend money with GOB Retail, be it games, dice, video games, Movies, TV Series, Anime DVDs, or whatever (but excluding copy and print services and POD), you earn 1 Rewards Point for every full dollar, pre tax, you spend.

3) Each month GOB Retail will sponsor a list of free merchandise and/or services that Reward Points may be spent on.


-- View Current Gamer Reward --
---

A map of the store location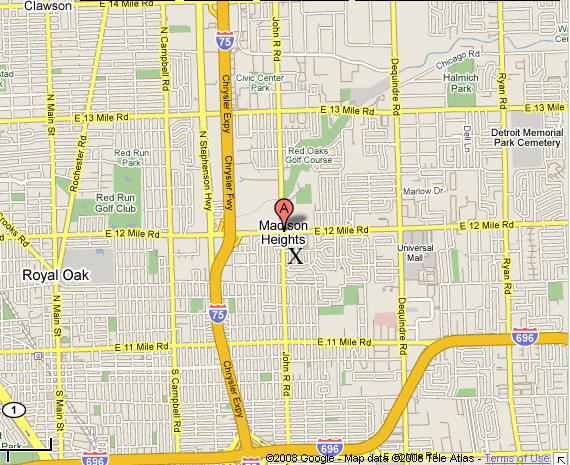 The Guild of Blades Retail Group (GOB Retail) store in Madison heights is centrally located along the Oakland - Macomb corridor. We are next to Royal Oak, Hazel Park, Troy, Clawson and Warren and spitting distance from Ferndale, Birmingham, Sterling Heights, Berkley and other communities. The store is just over a mile off the I-75 expressway, using either the 11 or 12 mile exits. Similar, you can reach us from I-696 by getting of at exit 19 and following the service drive to 11 mile, then turning west and heading 1 mile to John R Rd, then turning left (south).